As technology improves, it gets smaller. This is especially true in electronics; phones get slimmer, TVs get flatter, laptops and tablets get thinner and lighter.

Cooling components are integral parts of all consumer electronics. As electronics shrink, so too must their cooling fans. That's where Pelonis Technologies, Inc.'s (PTI) micro fans come in.

Micro Fans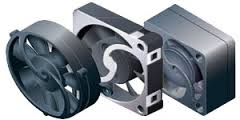 Micro fans are exactly what they sound like — extremely small fans. PTI manufactures micro fans with the same industry leading quality that you have come to expect from full size PTI fans, only in a much smaller size. Our largest micro fan is 30mm wide, about the same length as a paperclip; our smallest is 15mm wide, smaller than the face of a dime.

One thing you'll notice is that PTI does not offer any micro centrifugal fans. In fact, you would be extremely hard pressed to find very small centrifugal fans manufactured by any company.

Centrifugal fans, sometimes called blowers, are generally built with silicon steel motors, which are very difficult to miniaturize. A larger issue is the inefficiency of centrifugal fans at such a small size.

Certain design features of centrifugal fans can cause performance issues. Flow loss at the intake, air leakage caused by the gap between the casing and the blades, flow separation, and disc friction all reduce the strength of the air flow created by centrifugal fans.

These issues are insignificant in larger centrifugal fans, but their effect on efficiency is magnified when centrifugal fans are built in smaller dimensions. Miniature centrifugal fans are also prone to power loss when operating in higher heat ranges, exactly when you need a fan to be at its best.

For these reasons, all of PTI's micro fans are axial fans, which perform without any reduction in air flow when miniaturized.

Uses
Micro fans are incredibly versatile. Their most obvious use is in consumer electronics. Televisions, desktop computers, laptops, and tablets all use micro fans for cooling. But there are many other applications which PTI micro fans are perfect for, some of which include:
• LED lighting
• Micro fuel cells, and solar and wind energy devices
• CCTV systems and IP cameras
• Portable medical and surgical devices
• Mask and helmet ventilation
• Portable gas or particle detectors, and portable plasma generators
Unique Use Case
One unique use for micro fans has been developed by an Israeli company. They have incorporated two micro fans into a cellphone case. Sensors in the case detect when the temperature of the phone has risen too high, activating the fans to keep it cool. This helps to save the battery from capacity loss that extended heat can cause.
To learn more about the Micro Fans that Pelonis offers, click below to get a copy of our Micro Fans and Blowers Summary Catalog.
Though the fans are micro, their world is macro. Axial micro fans from PTI are virtually unlimited in the applications. Click here to learn more about our range of micro fan offerings, or contact us directly to discuss your particular application requirements and the possibility of customization.