What are Ball Bearing and Sleeve Bearing Fans?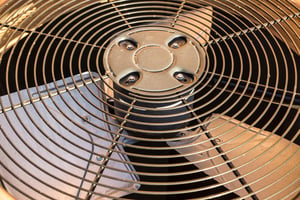 Ball bearing and sleeve bearing fans are particularly useful for cooling and industrial applications as they exhibit a lower level of friction and are able to operate faster and with greater efficiency.

Ball bearings incorporate rolling metal balls within parallel grooved rings, or races, that facilitate fan motion with minimal friction. The free movement of the balls within the bearing allows it to move smoothly in any direction, which makes ball bearings popular for applications that require multi-axis movement. In fans, they offer the benefit of variable speed, extended fan service life, and enhanced energy efficiency.

Sleeve bearings, also known as slide bearings or bushings, are cylinders placed within a housing that enhance linear motion by absorbing friction, thereby improving efficiency and reducing vibrations and noise. They can be composed of a variety of materials, including metal, plastic, and fiber composites, and they are often used in fans to facilitate smooth, reliable motion. Due to their longevity and efficiency, both sleeve and ball bearings are extremely popular in DC fan manufacturing for a variety of cooling and ventilation applications.
Ball Bearing and Sleeve Bearing Fan Characteristics
Lifespan
Most ball bearing fans operate for approximately 50,000 hours or more. A conventional sleeve fan will operate for more than 30,000 hours. There are a variety of factors that determine the overall life of a fan such as ambient temperature, fan mounting position, amount of friction, and bearing lubrication used.

Under some conditions ball bearing fans and sleeve bearing fans have comparable life spans. However, when ambient temperatures or friction increase, or when mounted in a non-vertical position, the life of sleeve bearing fans decreases significantly. Sleeve bearings have broad line-contact between the shaft and bearing during the back-and-forth sliding motion which generates more friction than the point contact of ball bearings.
To reduce friction and minimize overheating, fans need lubrication. For ball bearing fan systems thicker lubricants are needed. These include lubricants with more additives that are subject to less evaporation. The lubricants within sleeve bearing fans have a greater concentration of oil, and the sleeve bearings' bushings can only hold a fixed amount of lubricant. Since there is no periodic recharging of the oil, the lubrication within a sleeve bearing system is more likely to evaporate.
Noise
Sleeve bearing fans generally run quieter than ball bearing fans at low fan speeds. Their noise level depends on the clearance of the fan's bushing and variances in component parts.
Cost
Sleeve bearings are not precision made, and are therefore less costly. Conversely, ball bearing manufacturing is a more extensive process which results in a higher cost.
Friction
Bearings are particularly valuable for use in fans as they reduce the friction between moving and rotating parts. This allows the parts to operate smoothly and reduces overall wear on the moving components. Ball bearings offer multi-axis, low-friction options, while well-lubricated sleeve bearings exhibit quiet, low-friction qualities ideal for low-speed, linear operations.
Versatility
From automobile engines to industrial conveyors and computer hard drives, nearly every application that requires motion employs bearings. For this reason, bearings are designed and manufactured in a wide variety of configurations, including round ball bearings and cylindrical sleeve bearings. Ball bearings are ideal for applications in which fan speed and low friction are critical, while sleeve bearings offer the advantage of quieter operation for linear applications.
Applications that Utilize Ball Bearing and Sleeve Bearing Fans
Ball and sleeve bearings each have unique design characteristics that make them useful for particular applications. Some of the most common ball bearing designs include:
Angular contact bearings. Angular contact bearings are engineered to support both radial and axial loads. This type of bearing is ideal for heavy duty, high speed fans in pumps, electrical motors, and vehicle clutches.
Axial bearings. Axial bearings, also known as thrust bearings, are used to support axial loads, and are often used to facilitate low-friction movement of high-speed impellers for optimal air flow.
Deep-groove bearings. Deep-groove bearings are designed to facilitate radial and low axial loads, which makes them ideal for use in fans with high speed and low noise designations, such as ceiling and ventilation fans.
Linear bearings. Linear bearings allow for linear movement in one direction and are often used for vent and exhaust fans.
Self-aligning ball bearings. Self-aligning ball bearings consist of two separate rows of self-aligning balls ideal for radial and light axial loads in easily misaligned shaft assemblies.
High-speed angular contact bearings. High-speed angular contact bearings are designed to accommodate high speed operations with exceptional accuracy. This makes them perfect for fans in high performance applications that require low operating temperatures.
Advantages of Using Ball Bearing and Sleeve Bearing Fans
Sleeve bearings and ball bearings each offer distinct advantages for a variety of applications. Sleeve bearings are less expensive than most ball bearing designs and require less maintenance and installation time. They are also quieter at low speeds when compared to ball bearings.

Ball bearings generate less friction which creates less heat. The narrow design of ball bearings makes them easier to fit into complex and compact equipment, shortening the shaft and reducing the potential for deflection. They do not require as much lubrication as sleeve bearings, and they are able to carry both axial and radial loads, making them highly versatile. Ball bearings can also be stacked in tandem or back-to-back in order to increase their load carrying capacity.
PTI's Sealed Bearing System: The High Performance, Low-Cost Bearing Solution
Recent improvements in sleeve bearing manufacturing have not resolved the problem of oil leakage and dust contamination that occurs in the impeller side opening of the bearing. Pelonis Technologies' new "Sealed Bearing System" solves this problem by using a special sealer in the impeller side. Because the oil remains in the bearing without dust contamination, the sleeve life fan compares favorably to the life of the ball bearing fan, generating less noise and providing a shock resistant operation.

The Pelonis "Sealed Bearing System" is a practical solution for DC fan applications that require the benefits of both sleeve and ball bearings. The cost of the SBS technology is slightly higher than the conventional sleeve bearing technology but well below the ball technology. In addition, SBS reduces oil leakage and dust contamination associated with sleeve bearings, thus making SBS an ideal high performance/low cost environmental DC fan bearing solution.
Superior Ball Bearing and Sleeve Bearing Fans From Pelonis
Whether you are in need of quality axial fans for your HVAC system or an industrial DC blower, we have the equipment you need to keep your operation running smoothly and efficiently. To learn more about Pelonis' selection of ball bearing and sleeve bearing fans, contact our experts today.