Centrifugal fans are popular choices for today's modernized air handling applications. Due to their simple design, centrifugal fans are manufactured easily and quickly, which can save a lot on production costs.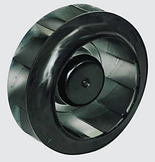 The design of these fans also provides exceptional aerodynamic properties, allowing for improved airflow in vehicles and HVAC systems. Different centrifugal fans offer specific merits, but collectively, these fans will be more beneficial to various project needs as opposed to axial fans. Here are six benefits offered by centrifugal fans that just might convince you to switch over.
First-rate energy efficiency. Constant airflow allows centrifugal fans to generate energy that reaches up to 84% static efficiency. These higher efficiency levels are ideal for sustaining larger air systems.
Enhanced durability.

These fans are durable enough to properly operate in the most corrosive and erosive environments.
Ability to restrict overloading. Certain centrifugal fans are fitted with non-overloading horsepower curves

will

ensure the motor will not overload if its capacity is exceeded.
Easy to maintain.

Lighter material fans can be easily cleaned when you deem it necessary. Moreover, certain fans have self-cleaning characteristics, making daily maintenance that much easier.
High versatility.

Centrifugal fans are useful for multiple airflow/pressure combinations, and they can process several airflow conditions, including clean, dry, and wet air
Multiple sizes.

These fans are available in several sizes to accommodate diverse applications—such as those found in tight spaces or difficult to reach areas.
Learn More About Centrifugal Fans
To improve your air system's productivity while decreasing your energy costs, centrifugal fans are the optimal fans to choose.
Learn more about these fans with Pelonis' new eBook titled The Advantages of Centrifugal Fans.
If you are interested in choosing a centrifugal fan for your commercial or industrial needs, please contact Pelonis Technologies today.