Over the past decade, America's natural gas drilling industry has grown at a breathtaking pace. Specifically, shale gas has been the main driver of this boom. Thanks to new and improved drilling methods, reserves of natural gas in the U.S. are growing by the hour. Experts believe that shale gas will account for almost 50% of U.S. gas production by 2035.
As we find more natural gas, prices go down and that in turn spurs manufacturers and other industries that can rely on natural gas. More gas, more jobs, and a stronger economy.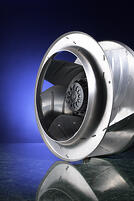 At Pelonis, we are excited about the boom in shale gas. As with almost every heavy industry, proper ventilation is necessary in oil and gas drilling. This is why so many of today's leading drillers rely on our fans to keep their operations running smoothly and safely.
To be more exact, the natural gas industry favors Pelonis' AC Centrifugal Fans with backward curve blades. These types of fans are popular because they get higher airflow and pressure. This leads to better performance because the higher level of pressure is perfectly suited for the harsh conditions and intense vibration inherent in the drilling process. All of our rugged and vibration free AC Centrifugal Fans with backward curve blades are RoHS compliant and we offer seventeen different sizes that range from 133mm to 355mm.
It's pretty clear why Pelonis' high efficiency fans are the go-to fans for the entire ever-growing shale gas drilling industry. If you want to learn more about our backward curve blade fans please visit our website or contact us today!