RoHS (Restriction of Hazardous Substances) is a directive from the European Union (EU) that restricts the use of six hazardous materials commonly found in electrical and electronic products. In particular, it specifies maximum levels for lead, mercury, cadmium, hexavalent chromium, polybrominated biphenyls, and polybrominated diphenyl ethers.
All companies that sell electrical or electronic products or components to RoHS countries must adhere to these regulations. The EU will grant a company RoHS certification after reviewing its documentation, completing a thorough audit and performing on-site
Protecting Against the Dangers of Toxic Waste with RoHS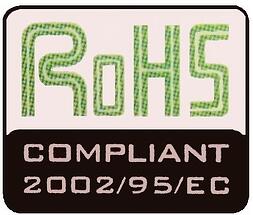 The RoHS directive took effect in 2006 and was a response to increased public scrutiny on the impact of electronics on the environment. According to DoSomething.org, a non-profit organization that advocates for social change, electronic waste "represents 2 percent of America's trash in landfills, but it equals 70 percent of overall toxic waste." This waste can lead to death, illness and birth defects in all those who are exposed. To protect people against the dangers of toxic waste, a total of 27 countries now require RoHS compliant units.
The dangerous substances that RoHS seeks to control are found in a wide range of consumer electronics. Lead, one of these restricted substances, can be found in cables such as USB charging cables and power cords. Lead is also present in batteries, printed circuit board finishes, and the glass on television screens and cameras.
Cadmium, another restricted substance, is present in certain photocells and batteries. To achieve RoHS certification, companies must keep the amount of lead in their products below 1000 ppm, and cadmium below 100 ppm. They must also keep levels of hexavalent chromium, polybrominated biphenyls, and polybrominated diphenyl ethers below 1000 ppm and mercury below 100 ppm.
Benefits of RoHS Compliance
In addition to a cleaner environment, companies that comply with the RoHS directive can expect to gain a number of benefits. Stricter regulations require "tighter process control, overall reduced number of defects and increased production efficiency."
They also necessitate more communication across the supply chain and skills in the workforce. Finally, RoHS compliance confers a competitive advantage to manufacturers and companies for those markets that have just begun to consider the implementation of environmental standards.
Companies in the consumer electronics industry can help reduce the danger of toxicity to humans and the environment by pursuing RoHS certification. They will also contribute to the growing momentum of initiatives concerning sustainability and energy efficiency.
Pelonis Technologies is one of those companies. At Pelonis, we are committed to developing fans and motors that are not only high-quality but also environmentally friendly. We're proud to be a RoHS compliant company.