The cold weather may be on its way again, but that doesn't mean you have to lose that golden tan you worked so hard on this summer. All across the nation, people are heading towards their local tanning salons and trying to stave off the winter blues. Tanning is a $5 billion a year industry that employs over 100,000 Americans. Thanks to popular culture and amazing advances in tanning technology, these numbers are only going to grow as the economy improves.
At Pelonis, we know a thing or two about tanning because without fans like ours, the business would never have gotten off the ground. In order for a tanning bed to work correctly, you need high quality internal cooling fans. Of course, you can't just use any fan. These systems are like big vacuum cleaners so if they are faulty or not properly maintained, the can gather dust and debris and overheat. It is for this reason that the industry relies heavily on Pelonis' larger fans and blowers. We offer high quality products at competitive costs and our flexible manufacturing technique means we can handle any size job. We make fans and blowers that won't be overwhelmed by the surprisingly difficult conditions associated with keeping tanning beds operating across the country and the globe.
The next time you are working on your indoor tan, just remember that there is a good chance that a fan or blower from Pelonis is working just as hard to keep you cool and safe!
A New Era In Space Travel
We have mentioned a few times on the blog that Pelonis plays a valuable role in the aerospace industry. Some of our fans have traveled into space, and some are circling far above your head as we speak. For years, space was mostly a place serviced by the governments of the world. Here in America, NASA has taken us to the Moon and beyond since it began operation in October of 1958. However, with a recent shift in governmental spending priorities and tough economic times, NASA has had to look for new ways to move forward. Recently NASA decided to reach beyond the public sector into the private.
Since the retirement of the Space Shuttle, NASA has been looking for a way to take astronauts to the International Space Station. They solved this problem by picking three private aerospace companies to build small spacecrafts to transport their astronauts. It is a big step in the future of the American space program and one Pelonis looks forward in which to participate. No matter who is funding or building the satellites and rockets of the future it's a safe bet they will need many of the air movement products that we provide at Pelonis.
Who knows, maybe there will be a Pelonis fan on the first manned mission to Mars. We can only hope!
Are Your Fans Inefficient?
Recently the Department of Energy's Ron Wroblewski was asked how you could tell when you have an inefficient fan. Ron is not only a DOE Energy Expert but also an expert in optimizing industrial fan systems, so he is the right person to answer this important question. In response, Ron made a few very salient points. First, he mentioned that it takes more than just a quick look to decide that a fan is inefficient. Once a closer inspection can be done, Ron believes fan inefficiency falls into three different categories: control, production/maintenance, or system effect.
In a control situation, the fan is not working correctly if it relies to heavily on dampers to restrict flow. A production/maintenance problem might be identified by wasted energy or a system that breaks down often and gives off excessive noise, heat, or vibration. Finally, the system effect is related to a fan system that is poorly designed. This shortcoming will create turbulence and instability and is a sign that the fan itself is faulty, or that installation was done incorrectly.
If your fans show any of the above signs, then it is time to call an expert like Pelonis. We will quickly diagnose your fan system problems and then recommend the perfect solution. We can custom design and manufacture a fan system that will fit your every need. That way, you will never have to wonder if you're saddled with an inefficient fan.
Don't Worry - Pelonis Will Keep You Cool
Even when it's 100° outside, most of us expect our homes and workplaces to remain cool and comfortable. We take for it for granted that we won't have to battle the heat while we fill out a spreadsheet at work or relax on the couch at home. At Pelonis, we come face to face with some of the world's most difficult challenges. From critical medical equipment, to billion dollar satellites, to heavy-duty military vehicles, our fans have to perform perfectly or people can lose their lives. Pretty serious stuff, yet in many ways, our biggest challenge is making every day heating, ventilation, air-conditioning, and refrigeration so seamless and consistent that you never really have to think about it.
Pelonis' Fans-Tech® products are not only RoHS compliant and made in accordance with internationally recognized standards, but they also come in an amazing range of voltages and sizes. Our advanced production equipment allows us to keep costs low and quality high. Our flexible manufacturing capabilities keep our stock levels high at all times and lead times short. We also offer our clients the choice of readymade or custom designed fans, blades and impellers.
Therefore, the next time you look out the window and think, "I am sure glad I am not out there!" remember that it wouldn't be possible without high quality, value-added products from companies like Pelonis.
In the end, our innovative Fans-Tech® products are designed to handle everything from the ordinary to the extraordinary.
Going Green Above The Earth
Recycling is certainly all the rage. There is a thriving market for anything that is recycled: cans, bottles, paper products, cell phones, the list is nearly endless. However, here's a bit of shock, it seems that recycling is heading to the final frontier.
The Defense Advanced Research Projects Agency (DARPA) is teaming up with private engineering companies to work on a plan to turn space junk into working satellites. The biggest thing when it comes to satellites is getting them into proper geosynchronous orbit. There are quite a few broken satellites just orbiting the Earth, doing nothing but literally taking up space. This project would send "mechanics" (in this case mechanic-like servicing satellites with robotic arms and hands) into space to gather different parts from non-working satellites.
While this all sounds rather far-fetched and expensive, it is in fact the money-saver of the future. If you don't have to launch a fully formed satellite, then you will save money on things like construction, rocket fuel costs, and manpower. This technology is still a ways off, but the U.S. military is serious about making it a reality.
At Pelonis, we are equally as serious about providing this bold endeavor with our innovative fans. If our expertise in the field has taught us anything it is that as more satellites are launched (and even more are in need of repair) durable and reliable fans are the one thing you can't cut corners on.
How Our Fans Function In Barbecue Equipment
At Pelonis, we take pride in offering the highest quality fans, blowers, AC motors, and heating elements. Our products function in a variety of applications such as medical equipment, HVAC systems, and heaters, but there's one function we get exceptionally excited for: grills.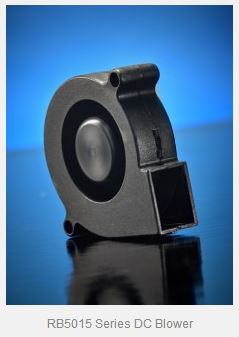 We love to cook out in the summer sun, but there's no reason to hang up the spatula because the weather is cooling down —just like how our fans function inside the grill itself to keep the heat controlled. With 45 percent of U.S. households use their charcoal, gas, pellet, or electric grills and smokers between Memorial Day and Labor Day, we're an important part of grill safety and functionality.
Whether your tool of choice is a small propane-powered gas or built-in outdoor kitchen, our DC blowers function in all of these products. A standard example is our RB5015 Series DC blower, which has reinforced plastic PBT and a few optional features, including a tachometer, alarm output, and thermal speed control.
Whether you're an OEM looking to spec a similar fan or a consumer with grill fan questions, check out our full selection of products on our website.
Keeping Your Electronics Cool
These days, walking through a store that sells TVs and computers will leave you just as dizzy as a tourist standing in the middle of Times Square fifty years ago. The bright, beyond life-like images exploding from walls of 80" LED HDTVs and 27" widescreen LED computer monitors can leave you overwhelmed. All this ultra-modern technology has one thing in common: they get hot. You just can't produce HD displays for over 16 hours a day without generating an immense amount of heat. There is no doubt that as each day passes, science is finding better ways to reduce the heat output of major electronics. If you had a laptop computer 10 years ago, you can remember almost setting your lap on fire after about 20 minutes of use! In the end, the key to keeping our electronics from overheating is a high quality fan.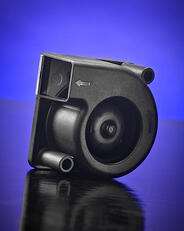 At Pelonis, we make fans big enough to cool massive HVAC systems and satellites, and small enough to go almost undetected in your favorite computer, TV, or smart phone. In the end, no matter the size of the fan, the goal is same: to produce the highest quality, most innovative products at the lower costs possible. Whether our TVs, computers, and electronics get bigger, smaller or thinner, they all are getting more powerful and more in need of cutting edge fan technology to keep them cool.
So, the next time you stand there transfixed by a sporting event on a giant HDTV, just remember that without the kind of fans we make at Pelonis, you'd be missing out!
Mining The Sky
At Pelonis, we are experts in creating fans that can withstand the harshest imaginable conditions. No environment is too dry or too wet for our dust-proof and waterproof, weather resistant fans. It is also true that our fans are also utilized far above the surface in aircraft and satellites. Recently the ever intrepid movie director and adventurer James Cameron and a few of his friends including Google co-founder Larry Page, decided that the future of mineral mining lies somewhere beyond the stratosphere. These high-tech tycoons are planning to mine near-earth asteroids for minerals like gold and platinum. All involved theorize that even a small asteroid might contain trillions of dollars in minerals. If they can accomplish their audacious and expensive plan, they will fundamentally change the world's economy and even the course of human history.
Almost every piece of equipment in space travel and mining needs reliable and cost-effective fans to provide ventilation and cooling/heating. Since Pelonis' fans are already used below, on, and above the earth's surface, it would not be a stretch to imagine that the same technology we produce will be utilized in almost every aspect of this endeavor.
Odds are you won't be hitching a ride into space to mine gold anytime soon, but that doesn't mean you can't benefit from our innovative fans, blowers, and trays. To learn more about any one of our amazing fans, please visit our website or contact us today.