As a respected manufacturer of axial AC fans, brushless axial and radial DC fans, it is important that Pelonis Technologies, Inc. (PTI) maintain mastery of the craft. PTI has built that expertise over a period of more than 25 years.
Our fans and motors are used by highly regarded companies in a wide variety of industries — they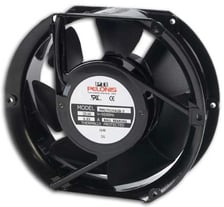 can be found in the aerospace, automotive, appliance, defense, medical, and original equipment manufacturing (OEM) industries, among many others.
With such a diverse clientele, PTI must develop and implement an equally diverse range of technologically advanced fan solutions while meeting the requirements of an array of different standards.
Fan speed is a requirement that we come across often. This is especially true for high tech applications, which tend to require precise operational temperature ranges. To meet that demand, we offer a number of different fan speed controls, each with different control mechanisms.
TPWM
One important variety of fan speed controls are Automatic Temperature (TPWM) Controls. These controls differ from other fan speed controls in that they regulate fan speed using temperature measurements converted to electrical signals, as opposed to direct voltage or current signals from an external source.
The TPWM Controls at PTI use a negative temperature coefficient (NTC) thermistor, a type of resistor that functions based on temperature. Specifically, the resistance of NTC thermistors decreases as the temperature increases.
Available for mounting either within the fan's housing or externally, our thermistors are 104J, with resistance of 100 KΩ (kilo-ohms) at the temperature of 77ºF (25ºC). Minimum -4ºF (-20ºC) up to maximum 158ºF (70ºC) temperatures, can be selected and preset by the fan operator.
Our TPWM controls are designed to continue running the fan at full rpm speed if the thermistor wires are cut or shorted. This maintains safe conditions and protects the equipment that the fan is installed in, and the products or goods that the equipment is used to cool.
When the thermistor of a TPWM controlled fan is functioning properly, the fan will react in one of three ways if the external temperature either reaches or dips below the preset minimum operating temperature:
When set in Mode A, the fan will be adjusted to and remain the minimum speed; when set in Mode B, the fan will be stopped; when set in Mode C, the fan will be adjusted to run at minimum speed for preset lower temperature and then it will be stopped. In all modes of operation, Modes A, B, and C, the fan speed increases linearly to the increase in temperature until the maximum preset speed is reached.
Controls from PTI
PTI offers multiple varieties of fan controls beyond TPWM controls. Each control is slightly different from the next — with different control mechanisms, proportional relationships, and operational capabilities — to ensure that you find the right control for your application, no matter what it may be.
To learn more about TPWM controls and all of the other control types PTI offers, download our Control Speed eBook for free today.