Pelonis Technologies, Inc. (PTI) has been working diligently over the past 25 years to master each and every facet of the design and production of fans.
A globally leading manufacturer of DC motors, brushless DC fans, and axial AC fans, PTI serves industries as diverse as aerospace and defense, automotive, heating and air conditioning, medical, appliance, original equipment manufacturing (OEM), and many more.
By developing and manufacturing fans for such a wide variety of industries and applications, PTI has developed a specialty in creating high technology fan solutions in our advanced and ISO-certified facilities.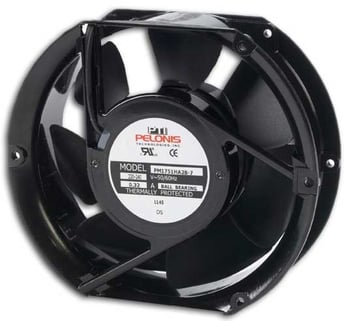 One requirement we encounter repeatedly across all applications and industries is fan speed. Sensitive technology usually comes with precise temperature restrictions — these restrictions must be met in order to guarantee proper operation.
To ensure that all PTI fans operate exactly at their required speeds, depending on the fan model or application in which it's being used, we have put a great deal of effort into perfecting a number of fan speed signal control methods.
IPWM
One of the most common types of fan speed signal controls used in PTI fans are Current Source Signal (IPWM) Controls. The controls adjust fan speed according to the strength of the flow of a current, measured in microamperes (mA).
Connected externally to fans, IPWM controls generally function in the range of 4 mA to 20 mA — custom IPWM controls can be designed to accommodate currents of up to 50 mA for larger applications.
Current Source Signal controls linearly adjust a fan's speed in proportion to the mA of the input current; the more mA an input current has, the faster the controlled fan spins. Specifically, a fan's speed as measured in revolutions per minute (rpm) will increase in percentages equal to the percentage of mA current increases.
Like most other PTI fan speed signal controls, IPWM controls can operate in three different modes: modes A, B, and C. In mode A, IPWM Controls maintain a minimum fan speed, predetermined and preprogrammed by the user, even if the input current is reduced to 0 mA.
In Modes B and C, an IPWM Control will stop the fan completely whenever the input current is below 4 mA, for safety reasons. Other speed variations can also be preprogrammed according to the user's needs.
Fan Speed Signal Controls from PTI
Over the course of more than a quarter of a century of work, PTI has mastered every aspect of the design and production of fans and motors.
This includes IPWM and a number of other specialized fan speed signal controls. To learn more about these controls, download our free eBook, How to Select a Cooling Fan, today.