After more than a quarter of a century spent designing and manufacturing fan and motor solutions for the Original Equipment Manufacturing (OEM) industry, Pelonis Technologies, Inc. (PTI) has developed a wealth of expertise.
Motors, axial AC fans, and brushless DC fans are complex pieces of equipment that require high technology solutions to meet today's demanding fan applications.
Our PTI team offers an unmatched level of experience to guide customers through challenging design choices; no other company can provide the same level of customer support or industry knowledge.
Among the myriad choices, the type of fan speed control used for a particular application is one of the most important selections.
VPWM Controls
There are many ways to control the speed of the fan, one of which is our DC Voltage Signal (VPWM) Control. This control adjusts the speed of a fan by using an externally connected DC voltage source. Operational at DC current voltages of as much as 20V, VPWM Controls generally work in the range of 1V to 5V.
A fan with a VPWM control is allowed to spin at its maximum speed, in rpms, when operating at the full preprogrammed voltage level. The fan speed will increase or decrease linearly in proportion to the voltage of the input DC current.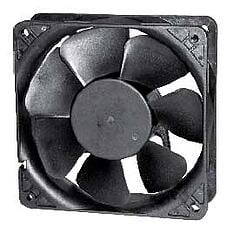 VPWM controls have three primary operational modes: Mode A, Mode B, and Mode C. Mode A maintains a minimum fan speed, predetermined by the user, even if DC voltage input is reduced below the minimum value, also predetermined by the user, which is generally 1V.
VPWM Controls operating in Mode B stop the fan if the DC voltage drops below 1V. Mode C stops the fan if the voltage drops below 0.5V. Additional operational modes can be programmed into the fan depending on the end user's requirements.
A select number of DC fan that PTI offers — including fans in the C Series, D Series, R Series, G Series, P Series, and K Series — are available pre-equipped or can be additionally equipped with a VPWM Control, which uses a white wire to help distinguish it from the fan's other wires. VPWM Controls maintain the Current Protection (IR), Current Limit (CL), and Constant Speed (CS) controls of the fan.
Pelonis Expertise
VPWM Controls are only one of a number of different fan speed controls. Dictated by fan application, expectations, temperature requirements, and more, the fan speed control decision is a complex and important one.
To learn more about the different fan speed controls Pelonis offers, download our newest eBook for free today.