Automation technology has improved by leaps and bounds recently, allowing manufacturers to more efficiently cut expenses and avoid maintenance delays. In the industrial fan and blower field, recent advances have allowed facility managers a greater degree of automation ability over their brushless DC fans and blowers.
Now, industrial fans and similar applications can use intelligent motor controls (IMCs) to better respond to environmental and electrical changes without human intervention, which helps reduce maintenance and labor costs associated with this equipment.
Today, we're going to answer some common questions about the use and functionality of IMCs in industrial applications.
Will IMCs Increase Product Life and Productivity for Industrial Fans?
For many industrial manufacturers, implementing IMCs on their industrial fans has led to rapid profit growth. IMCs allow manufacturers to automate their fans' control features, which helps minimize risks associated with power and heat incidents. Installing IMCs also adds a number of core features that make their product uniquely useful to industrial clients.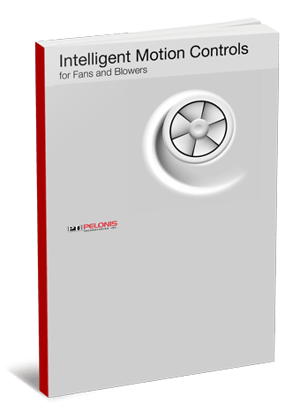 Both design engineers and system users need cooling systems that protect them against a multitude of safety issues. IMCs can help with the following problems associated with fan equipment:
· Current surges: IMC Inrush Current Protection (IR) control features help avert critical failures caused by current surges.
· Power supply: By ensuring that the power supply voltage never increases over the 20% specified rated voltage (which also can be customized), IMCs prevent issues resulting from power supply overvoltage.
· Blade blockage: The IMC Auto Start (AS) Control with Locked Rotor Protection and Restart with Current Limit system will automatically restart your fan should the blade get blocked. Built-in rotation detectors and life detectors can indicate whether the blade is running (with both low and high signals).
· Aging or wear: Automatic Temperature Control, Manual Variable Resistor Control, Programmable Constant Speed Control, and Multi-Alarm Connections help ensure that your fans run at optimal speeds and control parameters, which increases their total life.
In addition to these features, operators can program the systems so that they can automatically shift their behavior in response to environmental factors and sudden power changes. In this way, your industrial fans can act in the same way as AC units, which automatically calibrate their outputs to a room's conditions—but IMCs do so at a fraction of the cost.
What Do IMC Systems Protect?
While we've already covered the basics, let's dive into some specifics. Here are 16 ways ICM systems help protect against multiple safety and performance issues.
1. Inrush Current Protection (IR): This causes a gradual current increase in speed until the fan has achieved its maximum speed at the rated current (within 10 seconds)
2. Auto Start (AS): The blade will automatically restart if it's blocked, and the fan's current is reduced to zero if the rotary is locked at any point
3. Rotation Detection (RD): This indicates whether the blade is rotating on a LOW signal
4. Frequency Generator (FG): This monitors the fan's speed for safety issues
5. Rotation Detector Complement (RDb): This indicates whether the blade is rotating on a HIGH signal
6. Life Detection (LD): The LD helps detect whether the fan blades are turning below 70% of their rated target speed, which can indicate aging or wear
7. DC Voltage Signal (VPWM): This safely controls speed via an external DC voltage signal
8. Current Source Signal (IPWM): This controls speed via an external current source signal
9. Pulse Width Modulation Signal (PPWM): This allows you to control speed via a PWM signal (30 Hz to 30 KHz)
10. Over-Voltage Protection (OV): This feature protects the power supply from over-voltage issues
11. Automatic Temperature (TPWM): Similar to thermostats, this automatically controls speed via an NTC thermistor, which can be used to monitor and automatically control overheating issues
12. Manual Variable Resistor (RPWM): This controls speed via an external resistor
13. Current Limit (CL): This feature helps limit the current of the fan during a restart
14. Fixed Constant Speed (CSf): This ensures that your fan maintains optimal speed over a wide voltage range
15. Programmable Constant Speed (CS): This also ensures that your fan maintains speed over a wide voltage range, and it can be essential to overcoming system impedance variations
16. Multi-Alarm Function: This helps monitor the overall state of multiple fans and can alert you to issues immediately—before they become expensive problems
At Pelonis, Efficiency is Key
Pelonis Technologies Inc. offers a wide variety of fan motors and micromotors, heaters and temperature controllers, and industrial fans themselves.
Do you need an intelligent motor control solution? Are you looking for best-of-breed industrial fans, heaters, or micromotors? Contact us online to learn more about our capabilities and solutions.