Positive temperature coefficient (PTC) heaters consist of specialized heating discs built from advanced ceramic materials. These safe, powerful, and energy-efficient heaters allow for exceptional heat production and transfer within even the smallest spaces.
PTC heaters fall into one of two categories: fin elements or honeycomb forms. While both types offer a wealth of benefits over conventional heaters, users should be aware of the strengths and weaknesses of each before deciding which option to go with.
FIN PTC Air Heater
FIN PTC air heaters are self-regulating systems that employ temperature-limiting effects that remove the risk of overheating. Because of these self-regulating features, FIN PTC air heaters always operate at the highest safety levels possible. These conditions also allow for better conductivity and higher efficiency, resulting in a longer lifetimes than other heating systems.
These machines circulate air through the use of large aluminum fins, whose surface area ensures homogeneous heat transfer with low outlet. Users can also adjust the airflow volume to automatically regulate the system's heating power at any given time.
Honeycomb PTC Air Heater
Honeycomb PTC air heaters function below the combustion point of paper, meaning that they're incredibly safe and energy-efficient for everyday use. In these units, small heating discs function as the heating element, connecting directly with the power source to convert electricity into heat.
Holes in each disc allow for greater airflow access, meaning that these heaters can process higher volumes of air than other heating systems. Honeycomb assemblies can hold three, four, or five discs at a time to produce up to 2,000 watts of heat output.
Applications of PTC Heaters in Various Industries
· Transportation: PTC heaters bring a wide variety of benefits to the automotive and aerospace industries. These systems provide compact, lightweight means to heat the interiors of planes and vehicles. Anything from seat and steering wheel heaters to plane de-icers will likely use a PTC heater.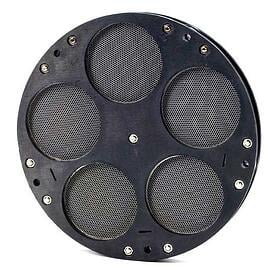 · Healthcare: Because PTC heaters' high safety records, medical workers frequently turn to them for a variety of applications. PTC heaters work especially well as under-body heating systems on operating tables, gurneys, and beds.
· Recreational: Outdoor clothing manufacturers can weave PTC heaters into their clothing. Because of their ability to run open-loop (without the use of electronic controls), jackets, vests, socks, and gloves can all incorporate PTC heaters.
· Food and beverage: PTC heaters can keep foods and fluids at consistent temperatures while they're being transported or stored for later use. These systems appear at many stages of the food processing and distribution process—processing plants, food transportation, and restaurants all benefit from PTC heaters.
· Public spaces: PTC heaters provide efficient, portable methods to heat outdoor venues such as restaurant patios, stadiums, and convention centers. Because of their light weight and energy efficiency, they can be moved and repositioned as needs and weather conditions change.
PTC Heaters Will Improve Your Home and Business
Dealing with dangerous and unreliable heaters can be stressful. PTC heaters improve on previous heater designs to provide safe, energy-efficient heating systems for applications large and small. Understanding the benefits to these heaters over traditional coil or ceramic chip options can help make a world of difference in both safety and effectiveness.