Operating in harsh conditions can present serious challenges for companies across various industries, but deadlines must be met no matter how extreme the environment. Severe weather, in particular, can affect all types of industrial processes and equipment.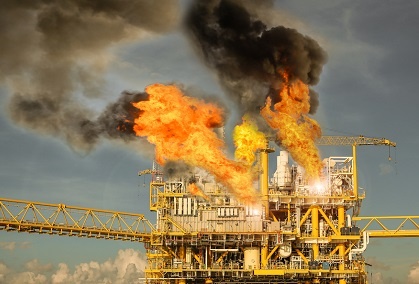 Power supply equipment, for instance, is especially susceptible to extreme weather conditions, as is heating, ventilation, and air conditioning (HVAC) equipment. Without the proper equipment and guidelines in place, industrial facilities run the risk of increased downtime, added costs, and worker injuries. To ensure efficiency and minimize downtime and unnecessary expenditures, precautions must be taken to protect equipment and keep workers safe in hazardous areas.
Hazardous-Area Classification
The National Electrical Manufacturers Association (NEMA), Underwriters Laboratories(UL), the National Fire Protection Association (NFPA), and a number of other industry organizations publish standards classifying areas that are considered hazardous.
A "hazardous area" refers to any area, indoors or outdoors, with — or with the potential for — harsh conditions, such as gases in chemical and petrochemical plants, dangerous fumes in food processing facilities, or the intermingling of fluids with electrical components.
Download our data sheet to learn about weather resistant fans suited
for the most demanding applications
Equipment Protection in Harsh Environments and Hazardous Weather
Equipment used in harsh environments, which can even include indoor applications in certain circumstances, must be designed to withstand dust and other contaminants — especially those that are flammable — as well as moisture, including water vapor, and direct water or liquid exposure.
Water-Resistant DC Fans
When DC fans must be used in these types of severe conditions, it's imperative to employ a reliable, high-quality water-resistant model to ensure the safety of your equipment and staff.
Pelonis Technologies, Inc. (PTI) has been designing, developing, and manufacturing industry-leading axial AC and brushless DC fans for more than 25 years. This includes a wide range of severe weather and water-resistant fans, which offer unparalleled dust and water protection while meeting military and NASA material specifications, USP certifications, and UL certifications.
Our harsh weather fans feature an eco-friendly proprietary conformal coating with excellent low friction properties and corrosion resistance, allowing the fans to easily withstand dust, moisture, water exposure, and even full water immersion. Our DC fans also undergo a rigorous vacuum sealing process, enabling them to operate during submersion.
Learn More
PTI's severe weather fans are ideal for a wide range of applications, including control equipment, emergency response vehicles, field and ground support equipment, indoor and outdoor cooling and ventilation applications, marine products and vessels, medical systems, military and mobile units, and security cameras.
To learn more about the importance of having the proper equipment in place for harsh weather conditions, or to discuss how PTI's water-resistant DC fans can help ensure reliability and safety in your facility, contact the team today.