Pelonis Technologies is excited to announce the launching of our new website and expanded product offerings.
Our expanded line of cross flow fans gives you over 50% more standard fans to choose from including our NEW line of high efficiency EC fans.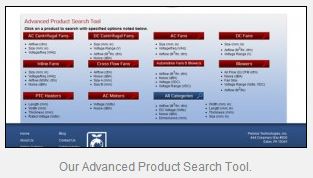 Take a look at our wider selection of standard AC fans. Pelonis has expanded our AC Fan offering by more than 50% providing you with a comprehensive selection of standard AC fans for most any requirement!
The new website offers a user friendly Advanced Search Tool that enables you to easily search all of our fans to quickly identify those that meet your requirements. You can search by the most popular product attributes such as: size (mm or inches), voltage range, air flow and noise. The new search tool is not only easy to use, it is also easy to find located right on our home page. Try it at www.pelonistechnologies.com.
Our new website also calls attention to our custom product development. Pelonis can meet your most demanding requirements for fans, motors and heaters that are exposed to excessive temperatures, moisture, dust, or virtually any other harsh condition. Contact us to learn how we can help!