Consumers of heating products each have their own specific application requirements. To ensure the success of their industrial or commercial projects, consumers must turn to products that are equal parts unique and innovative.
At Pelonis Technologies, our team has provided high-quality heating solutions for nearly 30 years. We fully understand the importance of providing newer, more diverse products to meet and exceed modern consumer needs. To support our valued customer base, we have added several temperature controller products to our existing catalog. These controllers are ideal for use with our product lineup including DC blowers, Micro fans, PTC heaters and crossflow fans.
More Products, More Options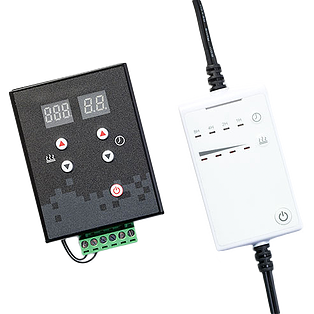 Our temperature controllers excel in laboratory testing, temperature regulation, and various other heating applications. Depending on the particular product series, these controllers afford exceptional benefits to end users.
Pelonis' line of temperature controllers includes Micro, 4-Phase, and Digital series controllers.
Our Solutions:
MT Series Micro Temperature & Time Controllers

– Small and lightweight, these are ideal for restrictive area applications. Simple-to-use controllers with ON/OFF control methods and over 10,000 custom specifications.

DTC-S Series 4-Phase Temperature & Time Controllers

– Offering four different time and power settings, these products have compatibility with both AC and DC voltages and utilize PWM for power input. Compatible with our DC fans and DC blowers, as well as our AC fans and AC blowers.

NTC 4-Phase Temperature & Time Controllers

– These controllers also utilize PWM, but instead of different power settings, NTC controllers offer four unique temperature settings. With an NTC temperature sensor, these products afford precision of 20°C to 60°C ±1°C.

DTC-A Series Digital Temperature & Time Controllers

– Designed for precision heating, these products can control temperatures within 1°C of the user specified level. This series of products can be set to time intervals that range from 30 minutes to 24 hours.

DTC-T Series AC to DC Digital Temperature & Time Controllers

– This series of controllers offers the best in digital monitoring and regulation. These controllers are capable of recalling past user settings automatically, and are compatible with many other heating products.
Find Your Ideal Controller Today
The temperature controllers from Pelonis will provide consumers with added flexibility—an important factor to consider when choosing heating products. These diverse solutions will support any heating application with optimal proficiency.
Please visit Pelonis Technologies' Temperature Controller Page to view our current product offerings. If you have any questions about these products, please contact us anytime.
For more information on Pelonis Technologies' Temperature Controllers, download our free catalog.