Pelonis Technologies is excited to announce the release of PTI Calc, a calculator app designed to help on-the-go procurement managers quickly convert between different units of measure when designing or selecting heating, cooling, and motor components. The app is available on both Google Play and the App Store.
PTC Products
We designed PTI Calc to help you more easily select the best product for your applications. You can make basic conversions and calculations when designing or choosing from our range of cooling, heating, and motor equipment.
Here are some of the ways you can use the PTI Calc app with our products:
Cooling Fans
Pelonis offers a wide variety of cooling fans and cooling fan accessories. Our selection includes:
AC fans
DC fans
Micro fans
Frameless fans
Fan trays
We design these fans for a variety of purposes. We also offer power cords, fan guards, filter kits, and blowers as needed. The PTI Calc app will help you easily convert between imperial and metric units per minute or hour, and understand how these relate to a fan's CFM. It will also help you better determine the length, width, and depth of fan designs along with the volumes of the areas in which you deploy them.
PTC Heaters
Pelonis air heaters come in many shapes and forms, letting you choose between honeycomb and fin heaters as well as our specialized ultra-thin flexible heaters. With the PTI Calc app, you can better choose the most useful heater for your needs.
Many of the same calculations that factor into the cooling fan selection process can also help you decide on the best heating system for your facility. PTI Calc can assist in converting units regarding a potential heater's:
Airflow rate
Component dimensions
Preferred temperature settings
Heat Transfer
Heat dissipation
PTC Motors
Pelonis's micro motors and AC motors appear in industrial and commercial products ranging from smartphones, tablets, portable razors, and medical devices as well as household appliances, space heaters, and business equipment. With the PTI Calc app, you can choose the best torque, pressure, and dimensions for your device across multiple units of measure when selecting an optimal motor.
PTI Calc also includes ways to apply Ohm's Law to potential motors. The calculator allows you to enter two of the three properties of Ohm's Law—voltage, resistance, and current—to determine the third. In addition, PTI Calc lets you figure out watt density, the frequency and speed associated with a given number of poles, and the relationship between the HP, torque, and speed of motors.
Use PTI Calc for All Your Conversion Needs
With a sleek design and intuitive user interface, PTI Calc will bring many exciting opportunities. With this app, users can now do all their conversions in one place, greatly speeding up the procurement process and allowing them to dedicate more resources to other tasks.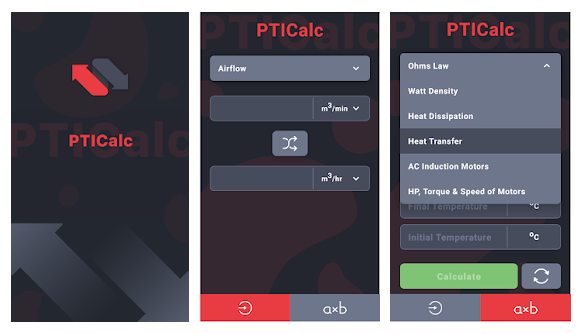 Don't hesitate to download the PTI Calc app from Google Play or the App Store to get started on your next conversion project.
Along with PTI Calc, Pelonis offers a full range of heating and cooling systems as well as motors for applications across many industries. To learn more about our product offerings, contact us today.