Pelonis Technologies, Inc. (PTI) is already well-known throughout the manufacturing sector for providing fans of the highest quality available. With our custom design expertise and advanced technology, we have a product line that includes AC, DC, and micro fans, along with a complete array of complementary items and accessories.
Our reputation was earned, in part, to our commitment to constant advancement and improvement. We are proud to announce our latest advancement, an addition to our current selection of industrial fans — our brand new line of frameless fans. Frameless fans from Pelonis are uniquely engineered and designed to provide the most efficient cooling for applications with extremely limited space constraints.
With the proliferation of personal electronics and a host of other technical applications, the demand is high for small, lightweight cooling products. Our frameless fans are quiet, consume minimal energy, and effectively reduce heat to safe levels.
Benefits and Applications of Frameless Fans
Frameless fans are designed to be mounted directly onto smaller scale products, such as circuit boards, or into enclosures with minimal space. Without a surrounding frame, these fans combine optimal cooling performance and remarkable space efficiency. They provide a number of benefits, including:
Cost effectiveness — Frameless fans produce less friction, lowering noise levels and increasing their overall lifespan. They also use less power, which saves battery power in portable applications.
More aesthetically pleasing — With the reduced noise and mechanical friction, frameless fans are more pleasing to work with than their counterparts. They are also styled in the design of ceiling fans for a nice aesthetic touch.
Highly versatile — Frameless fans can work at different operating temperatures. Standard models work anywhere between -10°C and 70°C, and custom models with ranges extend to as wide as -35°C to 90°C are available.
Design flexibility — There are many different design options available for our frameless fans. These include dust, moisture, and salt fog protection, as well as dual ball or proprietary bearings for improving reliability, performance, and longevity. Additional options include Tachometer and Pulse Width Modulation speed control.
The unique design features of frameless fans make them ideal for a wide range of electronic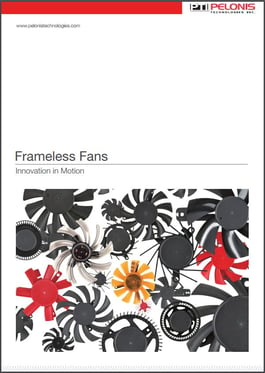 applications, some of which include:
Circuit boards, computer servers, and CPU, IC, and embedded sink designs
Laptops, tablets, e-readers, mobile phones, and other personal devices
Refrigerators and coolers
Portable medical, air quality monitoring, and other health and safety devices
Video boards
Defense and aerospace applications
Ventilation and defrosting applications
Other electronic equipment
Learn More
Frameless fans represent premium quality and design for custom cooling in limited spaces, uniquely engineered to fulfill the cooling requirements of virtually any application. To learn more about our new line of frameless fans, download our free Product Catalog or contact us today.