Every aspect of the food and beverage industry, from production to retail sales, must meet strict safety guidelines. This is especially critical when processing and storing food and beverage products. Whether you work with bulk grains, meat, dairy, fruits, vegetables, or animal feed, every item that moves through food and beverage processing and distribution centers must adhere to industry and governmental standards so that producers can safeguard customer health.
Guidelines for food processing and storage can vary from product to product, but several central tenets govern the proper processing and storage of products intended for human or animal consumption. Following guidelines that concern air circulation, exhaust, drying, and cooling is critical to keeping your products safe. The FDA and other agencies enforce regulations that oversee factors such as temperatures, ingredients, and fuel consumption.
At Pelonis Technologies, we work extensively with professionals throughout the food and beverage industry. We offer a wide range of products that meet the food industry's stringent requirements. We meet these requirements using some pretty innovative techniques, which we describe in detail in this post.
Common Fan and Blower Applications for the Food and Beverage Industry
When speaking about the food and beverage industry as a whole, it's critical to remember that this industry encompasses a vast range of processes and procedures. Everything in the food and beverage production chain, from raw materials to end products, is subjected to immense scrutiny and strict regulation by the government and third parties.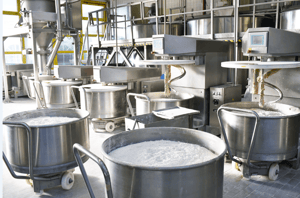 Reliability is a key requirement for fans and blowers for use within the industry. Malfunctioning machines or unplanned downtimes easily lead to degeneration and the nonuniformity of end products.
Many food and beverage processing centers use industrial fans and blowers to maintain sanitary conditions within facilities. These systems come with a wealth of applications, which include:
· Drying, dehydration, and aging
· Cooking lines and facilities
· Refrigeration
· Bakery/grain production
· Sugar and alcohol production
Pelonis Product Applications
Pelonis products often provide the first line of defense against mold, mildew, allergen, and pathogen buildup in food products. Here's a closer look at some of our most notable offerings.
DC Fans and Crossflow Fans in Beverage Dispensing Machines
Regardless of whether a beverage dispenser is located in a tiny bodega in Lower Manhattan or an industrial cafeteria on Google's campus, it will rely on a DC or crossflow fan to keep drinks at safe temperatures.
Pelonis offers more than a dozen fan options for when it's time to invest in a cooling or air-circulation solution for food and beverage applications. Our fans are renowned for their quiet, reliable, and cost-effective operating capabilities and can make the difference between a safe, ice-cold drink and one that should be dumped down the drain.
Small DC Blowers for Refrigerated Products
Using a weather-resistant DC blower can help ward off problematic contaminants and other issues in food and beverage processing applications. DC blowers help repel dust and moisture from products.
DC fans are ideal for maintaining temperatures during:
· Refrigerated transport
· Cold storage
· Shelf time inside retail establishments
Crossflow Fans for Hydroponic Lettuce Trays
Our crossflow fans especially benefit the growing field of hydroponic lettuce trays. In these setups, each tray has several fans placed beneath it to create continuous airflow. This allows lettuce to grow more easily and offers a great way to simplify this eco-friendly practice.
Learn More About Pelonis's Air Circulation Solutions
Pelonis offers a full range of fans and other equipment to facilitate product processing in the food and beverage industry. Contact us today to learn more about our innovative products and solutions.