If you own a business be it big or small, you know how critical it is to keep costs down. Everyday is a battle to find new ways to save money all while keeping quality levels high. Often in the electronics industry, there are inventive and even hidden heating and cooling cost saving factors not instantly thought about. In this blog, we will cover the top five ways Pelonis believes can help electronics manufacturers improve their bottom-line.
1.Heat Pipes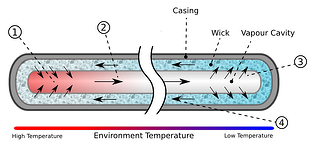 The overheating of electronics is a topic that will run through most of this blog's theme. It is one of the top "killers" of electronics thus manufacturers are constantly trying to find ways to eliminate or lessen its effects. One handy and simple way to reduce heat-related problems is with a heat pipe. Heat pipes are passive heat transfer systems with high effective thermal conductivity. Typically made with copper or aluminum, these sealed hollow tubes are lightweight and transfer heat away from machinery over long distances without any moving parts. Heat pipes, which use evaporative cooling technology, were first used by NASA but have found their way into modern electronics and computers. They are an easy and cost-effective heat transfer method.
2.Size of the Device
The cost of materials is a major issue for any manufacturer. This is especially the case in the electronics industry. Raw material costs are always in flux and some, like gold and silver, are always on the high end. Perhaps the most obvious ways to reduce your exposure to fluctuating prices is to use fewer materials. The best way to accomplish this task is to focus on miniaturizing your products. While this might come with some greater upfront costs, it will save you over the long haul. Smaller products, means lower overall costs. As well, smaller devices in general have a lower cost for heating and cooling.
3. PTC Heating Combined with Micro Cooling
Positive Temperature Coefficient (PTC) heaters are specialized heating discs/elements that combine outstanding heat transfer with a reduced need for space. Available as both a Fin element or in a honeycomb form, PTC heating elements replace resistance wires with ceramic chips. PTC heating allows for quick cool downs and do not require overheating protection. Thanks to this higher level of safety, they will reduce downtime, plus their smaller size plays directly into point #2 on our list.
4. Cost of Manufacturing
Finding a manufacturer that can combine competitive pricing and exceptional quality is the goal of every business. At Pelonis, we find that one of the best ways to lower your manufacturing costs is flexibility. It allows you to respond with speed and cost-effectiveness to any type of order. This flexibility crosses over into basic design as well. Being flexible about what types of heating and cooling options will work best provides an opportunity to save, rather than being rigid about that decision.
5. Long

-

Term Maintenance and Cost of Operation
If you are forced to constantly upgrade or repair equipment, it will cause costs to balloon. Much like reducing the size of a device, boosting long-term maintenance and lowering cost of operations with high-quality heating and cooling fans may raise upfront costs, but you will eliminate headaches, downtime, and lost productivity in the long run.
If you want even more cost saving tips, please contact Pelonis today! We are always thinking of new ways to save our customers time and money.
Image Source: "Heat Pipe Mechanism" by Zootalures (Wikipedia.org)