Safety and reliability are critical for any type of industrial system, and air heaters are no exception. Air heater failure can result in loss of production, unnecessary expenditures, and increased downtime — and in certain circumstances can even pose serious safety hazards.
At Pelonis Technologies, we understand the importance of high-performing, reliable air heaters and are proud to offer a line of industry-leading positive temperature coefficient (PTC) models for a wide range of application needs.
Fin PTC Air Heaters Vs. Honeycomb PTC Air Heaters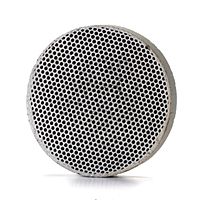 Our PTC air heaters come in two standard designs — fin and honeycomb. Our innovative honeycomb heating discs are made from a revolutionary ceramic material with over 1,200 round/triangle-shaped holes that heat 100% of the airflow across the entire surface area of the disc. The self-regulating nature of each disc also allows for higher efficient heat transfer, even in extremely tight spaces.
The fin-type heater includes a series of PTC thermistors embedded between sections of aluminum. As the thermistors are heated, they in turn heat the air flowing through the aluminum. The PTC thermistors are also self-regulating, eliminating the risk of overheating. Both low air resistance and high heating efficiency models are available, allowing for great versatility. And with double insulation, these heaters are even safe for underwater applications.
Safety and Energy-Efficient Features
Both types of our PTC air heaters are outfitted with cutting-edge safety features. For example, the honeycomb design — which in sets of three, four, or five discs can produce a 2 kW heat output — functions below the ignition temperature of paper, making it a safe option for air heating applications. The heaters' semiconductor ceramic material features a high PTC value, and the 1,200 holes for air passage allow our honeycombs to produce a flow of heat up to 50% hotter than conventional coil heaters, allowing for optimal energy efficiency. The many holes for air passage also result in more uniform heating.
The fin-type heater, meanwhile, features a fast thermal response time, an internal safety fuse, and high-current auto cutoff, allowing for reliable, high performance without compromising safety. This model can be customized to include external fuses, outer frames, protective shielding, and axial cooling fans. Additionally, the self-regulating feature enables better conductivity and efficiency, which translates to a stable electrical response and long operating life.
Learn More
To learn more about our PTC heaters — or our other product offerings, such as ultra-thin flexible heaters, temperature controllers, and immersion heaters — check out our comprehensive product catalogs, or reach out to the team today.