In the medical equipment industry, the function and reliability of an application's components is especially critical. Medical device companies rely on the best technology to take exceptional care of patients with minimal downtime in operation. The margin for error with these machines is nonexistent — and AC blowers are no exception.
The B1793 AC blower, part of Pelonis' premier Titan series, is made for rigorous performance to meet the demanding needs of today's medical applications. Designed with heat resistance, soft start operation, and universal dual speed controls, this model is a high performance, compact blower ideal for cooling medical applications.
Applications for Blowers in the Medical Equipment Industry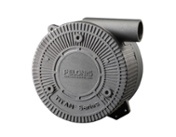 A key component of hospital patient safety and comfort is the medical mattress that complements the medical/surgical bed. Particularly for long-term, bed-ridden patients, these mattresses must be able to circulate air and prevent pressure sores, skin shearing, and other health risks associated with extended bed rest.
To prioritize patient comfort and well-being, the B1793 Titan Series blower has a proprietary aluminum enclosure for added thermal protection. Its exterior housing has grooves and indentations that facilitate heat transfer and keep the surface area of the mattress cool, so patients always stay safe and comfortable.
In addition to the B1793's heat dissipation capabilities, its soft start operation turns the device on gradually, rather than abruptly, to reduce electrical surge and wear on internal components over time. Both of these features contribute to overall device reliability, a hugely important benefit in such a costly industry.
Other critical air-driven medical applications include:
Central vacuum systems
Chair lifts
Respiratory devices
Steam sterilization
The B1793 is an innovative blower uniquely engineered to meet the rigorous demands of these diverse applications while preserving the safety of patients and the operating life of your devices.
About Pelonis
Pelonis Technologies, Inc. is a leader in air movement technology and equipment for the medical industry. We offer high quality ready-made and custom designed solutions at cost competitive prices to ensure our customers always receive the greatest value to meet their needs.
To learn more about our long-lasting, high performance air blowing solution for medical applications, download our free B1793 Titan Series AC Blower catalog today.