Air Movement Solutions for Automotive Needs
At Pelonis Technologies, we have consistently delivered high quality air movement equipment for over 25 years to clients operating in industries such as the automotive industry. Our line of auto fans provide a heightened level of control through integrated features such as Pulse Width Modulation (PWM), which allows for speed control operation and results in near-zero power loss and optimized energy efficiency.
With critical features like resistance to temperature extremes, our diverse auto fans have several applications within the automotive industry that already exist and more continue to emerge. As technology continues to redefine current capabilities and future possibilities across nearly every industry, the opportunity to create, design, and develop new products and applications is more apparent than ever.
Current Auto Industry Applications
Technology advances been altering the automotive industry, ranging from rear view cameras to heating and cooling systems to hybridization. Currently, autonomous vehicles are fully embracing the capabilities of advanced technology and potentially changing the automotive industry entirely. LiDAR measures distances to help vehicles maneuver through traffic successfully and avoid collisions.
This remote sensing method measures ranges by using light in the form of a pulsed laser. Proper cooling of electronics is critical to performance of this type of equipment. Additionally, automotive components must meet strict requirements and endure extreme conditions. Our frame-less fans are used in current production to cool LiDAR electronics in autonomous vehicles that utilize this sensing method.
Our products also support the operation of emergency response vehicles, which rely on the quality and performance of our DC fans. Currently, automotive manufacturers utilize our forward curve and backward curve DC fans in automotive heating and cooling systems aboard critical response vehicles such as fire trucks and ambulances.
Automotive Case Studies
In addition to having relevant applications in the auto industry, research and testing efforts continue to be a priority for Pelonis. These efforts lead to innovative designs and additional applications.
Oxicool – an automotive air conditioning company focused on using only pure water as a refrigerant – is testing several specialized DC fans and DC blowers during the samples and testing phase of their product development. These products, which will be used for cooling in mobile trucks and vehicles, are equipped with intelligent motion controls and also provide protection from dirt and moisture—two potentially damaging and prominent external elements capable of interfering with performance of any machine.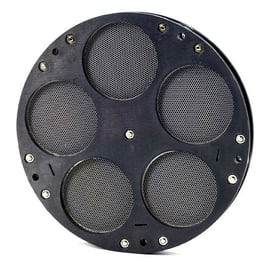 Another active research and development project by automotive cooling solutions provider ThermoKing confronts the hazards and potential risks faced by electric and hybrid buses that operate in extremely cold climates. These vehicles use a high-voltage battery and are subject to harsh environmental conditions and extensive exposure. Factors like snow, ice, wind, rain, and extreme temperatures can negatively affect battery performance and functionality.
To combat this, Pelonis Fin PTC Heaters are being tested as a means to defrost electric and hybrid buses. Our Fin PTC Heaters offer a solution that is both reliable and highly versatile. This is made possible by incorporating self-regulating elements, which enables exceptional performance across a range of voltages at virtually constant power.
Model Recommendations for Automotive Applications
Due to valid safety and health concerns, the automotive industry requires components to meet rigorous testing and specific performance and quality standards. Recommended models that meet or exceed the stringent requirements of the automotive industry include:
Twin Centrifugal Auto Blowers, which are designed to efficiently operate in a broad range of temperatures. These lightweight blowers utilize PWM, include electronically commutated DC Motor technology, and feature an impressive lifespan of approximately 20,000 hours.
Automotive Fans are quiet, efficient, and lightweight by design. They also feature electronically commutated DC Motor and PWM technologies.
Fin PTC Heaters offer an innovative and flexible solution with features that ensure operational safety, as well as a variety of designs to further specialize the product for the intended application.
Pelonis Technologies continues to design, develop, and deliver high performance automotive air movement solutions that exceed customer expectations. Our customer dedication and proven technical expertise enables us to effectively assist clients in determining an ideal solution specific to application needs.
To learn more about our extensive automotive applications or to request information, contact us.