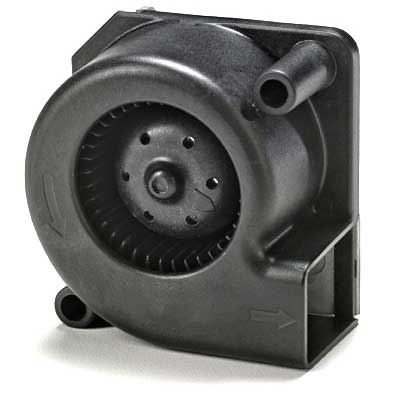 Pelonis Technologies manufactures and tests all of our products based on the highest standards of quality and reliability. We have an ISO-certified facility that employs flexible manufacturing techniques. This is one of the reasons that a mobile satellite communications company approached us to manufacture a DC Blower for one of their applications.
We were asked to design and build a blower that could adequately cool various system components. The blower had to stand up against moisture and dust in outdoor weather conditions on board a mobile vehicle. The customer had specifications that an environmental coating be applied to the blower's circuit board to protect it from dust and moisture. In addition, a custom cable plug-in type connector and a special inlet guard also had to be coated for protection from the elements.
Our solution was to fabricate a high speed 24 volt DC blower with an aluminum enclosure that was coated with this special coating. Initially, the blower was provided without a protective inlet guard, but after testing by our engineers and the customer, we worked together to modify the design to add the guard where needed.
Capabilities Applied/Processes

Primary: Custom tooling and Proprietary Conformal Coating

Secondary: Quick design and delivery of prototype samples for customer's initial approval

Overall Part Dimensions
120mm x 120mm x 32mm
Specifications
DC Blower Operating at 24 Volts Ball Bearings
Airflow
43 CFM
Additional Facts
As specified by the customer, we modified the frame of the blower with a built-in protective inlet guard.
In process testing/inspection performed
Airflow Testing, Static Pressure Testing, Dimensional Inspection, Speed & Power Testing, Noise Testing, Temperature Testing, Functionality Testing
Industry for Use
Aerospace – Mobile Satellite Communications
Delivery/Turnaround Time
12 weeks
Standards Met
Customer Specifications, 2D/3D CAD Drawing
Product Name
DC Blower
Why did you choose this project to show case?

Why did you pick this piece?
The blower was compact and rugged enough for the customer's applications and met their requirements.

Why did the customer choose you to do this job?
We provided the required customization of the protective inlet guard for use in rugged environments and to withstand dust and moisture.

What positive feedback did we receive?
The customer was pleased with our quick turnaround and innovative solution for making the protective inlet guard.