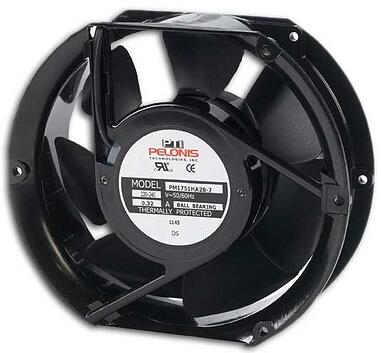 With over 25 years of product development and manufacturing experience, Pelonis Technologies has built a reputation on quality products designed and fabricated by dedicated skillful engineers. Their dedication to quality can be seen in a variety of past and current projects. One of our recent projects was to manufacture an AC fan to be utilized in an athletic facilities application.
This organization's ongoing issue came from damp used athletic apparel were often left or stored in an open air locker – similar to the lockers that professional athletes use. The athletic facility needed air to be circulated from the bottom of this open style locker to the top in order to both dry the sweaty clothing, but also to remove any potential for mold and mildew build up.
Our engineers designed one fan to be mounted at the top and back of the locker to draw air inward. The other fan was mounted at the bottom and back of the locker. This fan blew air out of the locker. An air duct was built in behind the locker to provide air circulation.
With this Pelonis Technologies' solution, now this athletic team can leave sweaty equipment and clothing behind in their lockers. A locker room attendant simply flips on a master switch that operates all 240 fans. They are left running for approximately an hour in order to dry out the gear and eliminate odor and potential for mildew and mold.
Capabilities Applied/Processes

Primary: Evaluation of application and recommendation of the most effective lowest cost solution.

Secondary: Quick delivery

Fan Model
PM1751HA1BAL-7
Overall Part Dimensions
172mm x 150mm x 51mm
Specifications
AC Fan Operating at 120 Volts
Frequency: 60Hz
Ball Bearings
7 Blades
Airflow
240 CFM (407.76 m3/h, 6.80 m3/min)
Pressure
0.370 Inches of Water (9.50 mmAq)
Additional Facts
A custom fitted metal finger guard was installed over each fan for safety.
In process testing/inspection performed
Airflow Testing, Static Pressure Testing, Dimensional Inspection, Speed & Power Testing, Noise Testing, Temperature Testing, Functionality Testing
Industry for Use
Athletic Facilities / Lockers
Volume
240 Fans
Delivery/Turnaround Time
One week
Delivery Location
Delivered to customer
Standards Met
Customer Specifications, 2D CAD Drawing
Product Name
AC Fan
Why did you choose this project to show case?

The project involved evaluating the requirements and determining the most effective solution for the most economical cost based on the customer's time constraints.