Squirrel cage fans have a wheel with a number of fan blades that are all mounted around a central hub and they are also known as tangential or cross flow fans. Usually connected to the housing with a motor drive, the squirrel cage fan achieves air movement when the hub turns.
Air moves through the fan wheel, and then flows over the fan blades, exiting the fan. Its long history of use and simple design have made the squirrel cage fan one of the most reliable and frequently used fan types on the market today.
Essential for Air Movement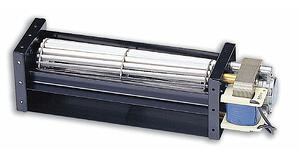 Indoor air circulation is something that most of us take for granted, but it can only be achieved through the use of fans. Fans play an essential role in air distribution systems. The people occupying any given building need heated or cooled air, and the efficiency of how it is delivered directly affects their comfort.
Air needs to be distributed to areas all throughout the inside of buildings, and fans are the lifeblood of achieving this. The U.S. Department of Energy has studied these air flow systems and estimates that close to 7% of a building's total energy consumption comes from fans.
Therefore, keeping a building's system of fans up to date with efficient and well working fans will ultimately reduce total power consumption and provide significant savings in energy costs. Depending on the size of the building and the design of the air flow system, a wide variety of AC or DC squirrel cage fans can be employed for cost efficient air circulation.
These fans often vary widely in current, input power, speed, and voltage, which aids in purchasing and installing them in the most appropriate fit for air flow system circulation requirements.
Air Flow Solutions for a Variety of Applications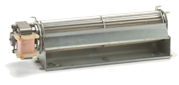 Squirrel cage or cross flow fans are used for more than the overall circulation of air inside buildings. Nearly any application that requires concentrated air movement will employ some sort of fan system. These types of fans can be created with compact designs that suit a wide cross section of applications.
They are used in air conditioning convectors and cabinets, air curtains, drying units, and for air conditioning in automobiles. Cross flow fans are also used in laser technology and for cooling electronics and transformers. They perform important roles in heating applications, including personal space heaters. The design of these fans also makes them suitable for use in aircraft wings to aid in the propulsion and distribution of air flow control.
There are a number of industrial applications for cross flow fans as well. They are used in industrial drying, environmental chambers, and for fume extraction. They can provide combustion air to industrial water heaters and burners. Cross flow fans have been used to convey material from dust collector systems to trucks, silos, and railroad cars.
Cabinets, rooms, or vaults can be pressurized by squirrel cage fans. If moisture needs to be removed prior to finishing processes like painting or coating, these fans can do the job as part of a blow-off system. When air flotation tables need suction or pressure, it is usually provided by a squirrel cage fan.
These can be used in food processing, drying ink, and for eliminating cold spots by circulating air in dryers and ovens. They can dry ink that's been applied in printing, silk screening, and commercial products, and can serve to ventilate AC/DC and traction motors.
Performance Varies According to Quality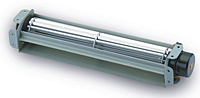 When employing a squirrel cage fan, the quality and features of any given unit will greatly influence the effect of its performance. The quality of an AC or DC squirrel cage fan's design plays a big part in the applications for which they'll be used.
A number of features are available on modern AC squirrel cage fans, including multi-blade designs that are constructed to increase airflow, specially designed high quality bearings that contribute to quiet operation, and a whole wealth of safety features to ensure that the fans will endure the harshest industrial environments.
DC squirrel cage fans are available in a wide range of models as well. These fans function best under low pressure environments, and offer the benefit of long life spans. This is because DC fans consume nearly 60% less energy than other fans.
They are well reputed for their quiet, reliable, and cost efficient operation, and are produced in direct proportion to the required voltage to optimize cooling. DC cross flow fans are appropriate for standard to extremely demanding applications.
A Simple, Economical Solution
Whether used for HVAC systems, industrial processes, transporting gas, or a host of other applications, squirrel cage fans offer circulation solutions that are well known for their economy and simplicity.
When choosing between the multiple options available for air circulation, it's well worth it to take a close look at what these fans have to offer. Their track record of use for over 180 years proves that squirrel cage fans play a major role in air movement, and are not going away any time in the near future.