Case Study: Honeycomb PTC Air Heaters
Offering great versatility and reliability, Pelonis's honeycomb positive temperature coefficient (PTC) air heaters are used across a wide range of industries and applications — including highly innovative, complex ones. The case study below illustrates how our PTC air heaters can help increase efficiency while saving time and energy use.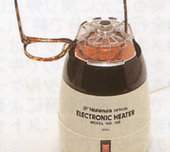 The Problem
A client approached the Pelonis team looking for an alternative to the PTC heater they were currently using from another supplier. Although the heater they were using was similar to our model, the company they were working with simply was not reliable — resulting in general stress and unnecessary downtime.
The client turned to us seeking a more trustworthy, dependable supplier for PTC air heaters; we provided them with our honeycomb heaters to test their efficiency and reliability when used in their specific application.
The Solution
The client was pleased with the sample tests they ran using Pelonis PTC honeycomb heaters. These heaters feature an innovative heating disc made from a revolutionary ceramic material with over 1,200 small holes that heat 100% of the airflow across the entire surface area.
This allows for highly efficient heat transfer in small spaces, and produces a flow of heat that is up to 50% hotter than the heat provided by conventional coil or ceramic chip models.
This allowed the client to save on energy while ensuring optimal safety, as the heater's thermoelectric properties are centered on an advanced extrusion technology that allows the disc to operate at high airflow temperatures while still remaining below the combustion point of most materials.
The Result
The customer is now a repeat client — and the honeycomb PTC heater we originally provided is currently in use in real-life applications.
The customer appreciated the frequent stock updates we provided them throughout the process to ensure there was enough stock available to fulfill production quickly and efficiently. And since the honeycomb heater necessitated minimal routing, the customer was able to save on time as well as energy use.
Our client continues to be impressed with the high performance of this safety-focused, efficient heater.
Learn More
The team at Pelonis is proud to serve clients' diverse heating needs, and we offer a wide range of solutions to meet specific application requirements. In addition to our honeycomb PTC heaters, we also supply fin PTC air heaters, ultra-thin flexible heaters, temperature controllers, and immersion heaters, as well as honeycomb PTC holder assemblies. Pelonis serves various industries, including power and energy, robotics and automation, medical and dental, IT and communications, security, and oil and gas.
To learn more about the features and benefits of our honeycomb PTC heaters, check out our comprehensive product catalog.